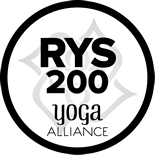 Welcome to Yogic Life (RYS – Registered Yoga Teacher School). We offer a comprehensive program for anyone looking to deepen their knowledge of yoga and become a professional yoga teacher. Our training covers not only the physical postures and breathing techniques of yoga, but also the philosophical and spiritual aspects of this ancient practice.
Our Yoga Teacher Training program is grounded in the traditional Indian yoga tradition and is Multi style oriented (incl Raja yoga, Hatha yoga, Yin yoga, Kundalini yoga & Ashtanga yoga), but we also integrate modern scientific insights and techniques. This approach gives you a solid understanding of the anatomy and physiology of the human body, and how to apply this knowledge in your yoga practice and teaching.
The training is divided into several modules, each covering a specific aspect of yoga. You will learn about the history and philosophy of yoga, teaching different yoga styles, meditation and mindfulness, and creating a safe and supportive yoga environment. You will also have the opportunity for personal development and self-reflection.
Our Yoga Teacher Training is recognized by Yoga Alliance International, which means that you will be internationally recognized as a qualified yoga teacher after completing the program. Whether you want to teach yoga independently or work at a yoga studio, our training will provide you with the skills and knowledge you need to succeed.
At Yogic Life, we are committed to providing a supportive and nurturing environment for our students. Our experienced and knowledgeable teachers are dedicated to helping you achieve your goals and guiding you on your yoga journey.
STARTING DAYS YOGA TEACHER TRAINING 2024:   
---
LIVE in Leiden: Yoga Teacher 200-hrs (Yoga Alliance RYT 200)
6th of january – end of june 2024, ca 20-25 Saturdays  from 12.00 – 18.00pm;
EUR 2399 (earlybird price EUR1999 till 30th of November) BOOK TRANING IN LEIDEN
---
ONLINE: Yoga Teacher 200-hrs (Yoga Alliance RYT 200)
MORNING GROUP: 8th of january – 30th of march 2024; Monday till Friday : 06.00-07.30am; Sunday study 07.00-10.00am; Saturday day off; EUR 1599  BOOK TRAINING ONLINE
---
ABOUT 200HR Yoga Teacher 200-hrs (Yoga Alliance RYT 200):
MULTI STYLE 200-HOUR YOGA TEACHER TRAINING COURSE CURRICULUM: Study of asana 100hours;  Teaching Methodology: 25hours;  Principles of anatomy-physiology & psychology with Yogic Science. 20 hours;  Yoga Philosophy, Lifestyle and Ethics for Yoga Teachers: 30 hours;  Practicum: 10 hours;   Spirituality and ethics with Business of Yoga. Our trainings are in English but we use and practice in Dutch as well.
Besides these hours you will receive a day module on entrepreneurship. Some students start with this training to deepen their yoga knowledge, but when you want to become a successful Yoga Teacher, we want to teach you about work possibilities when you are done with the training. We also provide you an internship lesson with us for one hour a week for six months and that will greatly help you build confidence and discover your own authenticity as a teacher.