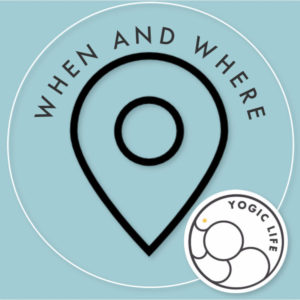 Do you want to sharpen your practice, connect with other yogis and create great things together in an amazing chill-out space? Then we have got a CHALLENGE for you!
Yogic Life CHALLENGE may be one of the most challenging lessons, but it is therefore also the lesson in which you learn most about yoga and yourself. We will teach ourselves the whole month of September a new habit and we will build up our yoga practice. At the end of the month you don't want anything else! Every week a theme will be covered to which we will dedicate that week's practice.
On 31st of August we will start a Yogic Life workshop, in which you will get an introduction about yoga knowledge and lifestyle and about the benefits of yoga. This workshop will be from 13.00 – 16.00
On 2nd of September we will start the early morning yoga challenge and we would like to invite you to join us. Do you want to go beyond patterns and learn how to live like a true yogi, then this challenge might be for you. The class starts at 6.00 and ends at 7.30. In YOGIC LIFE lessons you will learn more about the background of yoga, more about your body and yourself. YOGIC LIFE concept is based on traditional yoga as it is meant to be, a tool that creates better insights about yourself and things that can support you the most.
Location www.yogaroom.nl Teachers: Zdenka and Yogic Life Teachers in Training as assistents. We are delighted to serve you in your peace!  If you have any questions, send us a email yogiclifeacademy@gmail.com
– You will accept this challenge for 1 month (every weekday).
– You cannot miss a day. If you do miss a day you pay a penalty of €10,00 for yogi's breakfast. If you miss a day because you are sick, let us know and make sure you catch up this lesson as soon as possible.
– NOT-MEMBERS: €99,00 (month challenge + workshop). Register HERE
– YOGAROOM MEMBERS with an unlimited membership can join this challenge for FREE. Send us your registration per email yogaroom.nl@gmail.com.
– The Yogic Life Workshop can also be booked separately HERE for members and not-members for €30,00.